The Power of Community: A Journey of Education and Empowerment
Welcome to another episode of The Phillip Wylie Show. Today, I am thrilled to have Jakoby, also known as I am Jacoby, as my guest. Jakoby is a content creator in the cybersecurity space, and we connected through a Discord server for content creation. What drew me to Jacobi was his passion for educating and helping others, as well as his positive attitude. In this episode, we discuss the importance of community, the value of sharing knowledge, and the journey of self-discovery and empowerment.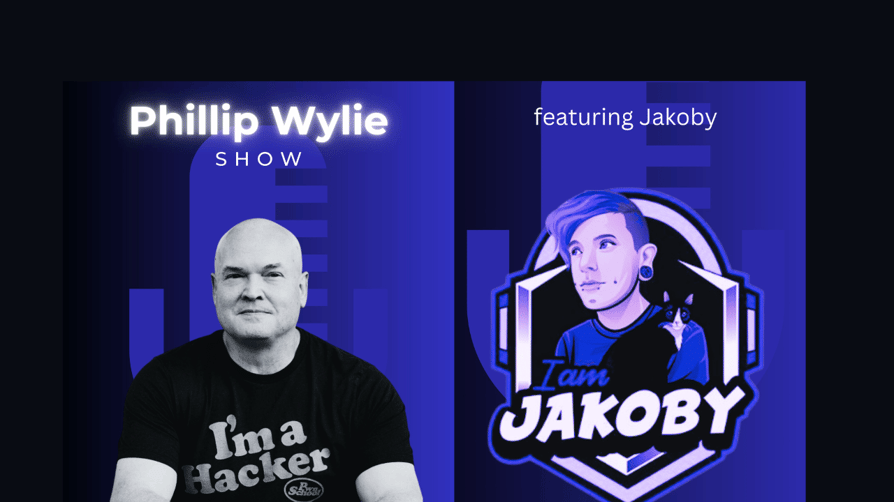 --> LISTEN TO THE PODCAST EPISODE HERE <--
The Power of a Positive Community
Jakoby and I both agree that the Discord server we are a part of has been a game-changer. Unlike other servers that can be toxic and competitive, this community is built on positivity and collaboration. Jakoby expresses his appreciation for the knowledge sharing and support that takes place within the group. He says, "Everybody's just so incredibly helpful and there's so much knowledge going back and forth, and it doesn't feel like people are competing. It's sharing knowledge and trying to help everybody win and get to a better place."
Filling in the Blind Spots
One of the greatest benefits of being part of a supportive community is the opportunity to learn from others and fill in our blind spots. Jakoby shares how he has been able to learn something new every day through conversations and interactions within the Discord server. He says, "I've had a lot of my blind spots filled in… instead of being brought up to you via confrontation or someone complaining about you missing something, it's oftentimes just a suggestion, hey, this is something that worked for me, and they're just talking about it and you're like, oh, wow, I didn't even think about it from that angle."
Hacking as a Journey of Self-Discovery
Jakoby's journey in hacking began at a young age when he discovered his ability to hack into his school's computer system. This experience sparked a passion for hacking and the thrill of being able to manipulate technology. He shares, "I was in the computer lab and just doing little things like making messages pop up on other computers… everybody was looking at me like I'm some hacker mastermind. And I knew that we were getting stationed somewhere else after that school year. So that was going to be the only year that these kids knew me. So I was like, whatever, I'm going to go all out."
From Imposter Syndrome to Hacker of the Year
Despite his early success in hacking, Jakoby struggled with imposter syndrome and hesitated to share his knowledge with the community. However, after submitting his payloads to Hak5 and receiving positive feedback, his confidence grew. He shares, "I won the Hacker of the Year award with Hak5. And that changed everything for me… that was just one of the first things that kind of got my confidence to a level where I consistently started trying to make content around what I did." This recognition and validation from the community motivated Jakoby to continue sharing his knowledge and skills.
Leveraging Social Media for Education and Outreach
Jakoby has found success in leveraging social media platforms to share his content and connect with others in the cybersecurity community. While YouTube is his primary platform for uploading videos, he has also explored other platforms such as Twitter and TikTok. He shares, "I've been pretty blessed… I've started experimenting with uploading directly to Twitter recently… and just a couple of days ago, I made it public that I was going to start doing some workshops." Jakoby's goal is to reach a wider audience and make cybersecurity education more accessible to newcomers in the field.
Overcoming Challenges and Embracing Opportunities
Jakoby's journey has not been without its challenges. He shares his struggles with mental health and the belief that he was not allowed to pursue employment due to his PTSD and anxiety disorder. However, he is determined to overcome these obstacles and pursue a career in cybersecurity. He says, "One of my big goals going into the rest of this year and into next year is to start pursuing some actual certifications so I can try to get into the field on a more official capacity, as opposed to just having it be a hobby."
The Future of Content Creation and Education
As Jacobi continues to grow his brand and expand his reach, he is excited about the future of content creation and education in the cybersecurity space. He plans to release Udemy courses, host workshops, and explore speaking engagements at conferences. He acknowledges the power of community and the role it plays in his success. He expresses his gratitude for the support he has received and the opportunities that have come his way. Jakoby concludes, "I am incredibly grateful for the people that came into my life and have been supportive… the last year has been just amazing for me. Everybody that I've gotten to meet, all the opportunities that I've gotten… things have just been going really well."
In conclusion, Jakoby's journey is a testament to the power of community, the importance of sharing knowledge, and the impact of positive support. Through his content creation and educational efforts, he is empowering others to learn and grow in the cybersecurity field. As he continues to overcome challenges and embrace opportunities, Jakoby is making a significant impact on the cybersecurity community and inspiring others to pursue their passions. The future looks bright for Jakoby, and we can't wait to see what he accomplishes next.


As the Director of Services and Training at SCYTHE, Phillip Wylie is a cybersecurity professional with over nineteen years of experience, with over ten years of his career in offensive security. During his offensive security career, he worked in consulting and as an internal pentesting resource for financial and consumer product companies. Phillip's offensive security scope includes penetration testing, application pentesting, and red teaming. He enjoys mentoring and educating others about pentesting during conference workshops and events. His offensive security educator roles include community college adjunct instructor and curriculum and offensive security content creation. Phillip co-authored the book, "The Pentester Blueprint: Starting a Career as an Ethical Hacker," based on his conference talk on starting a career as a pentester. He was also featured in the "Tribe of Hackers: Red Team" book. As a podcaster, he hosts "The Phillip Wylie Show" and previously hosted "The Hacker Factory Podcast."