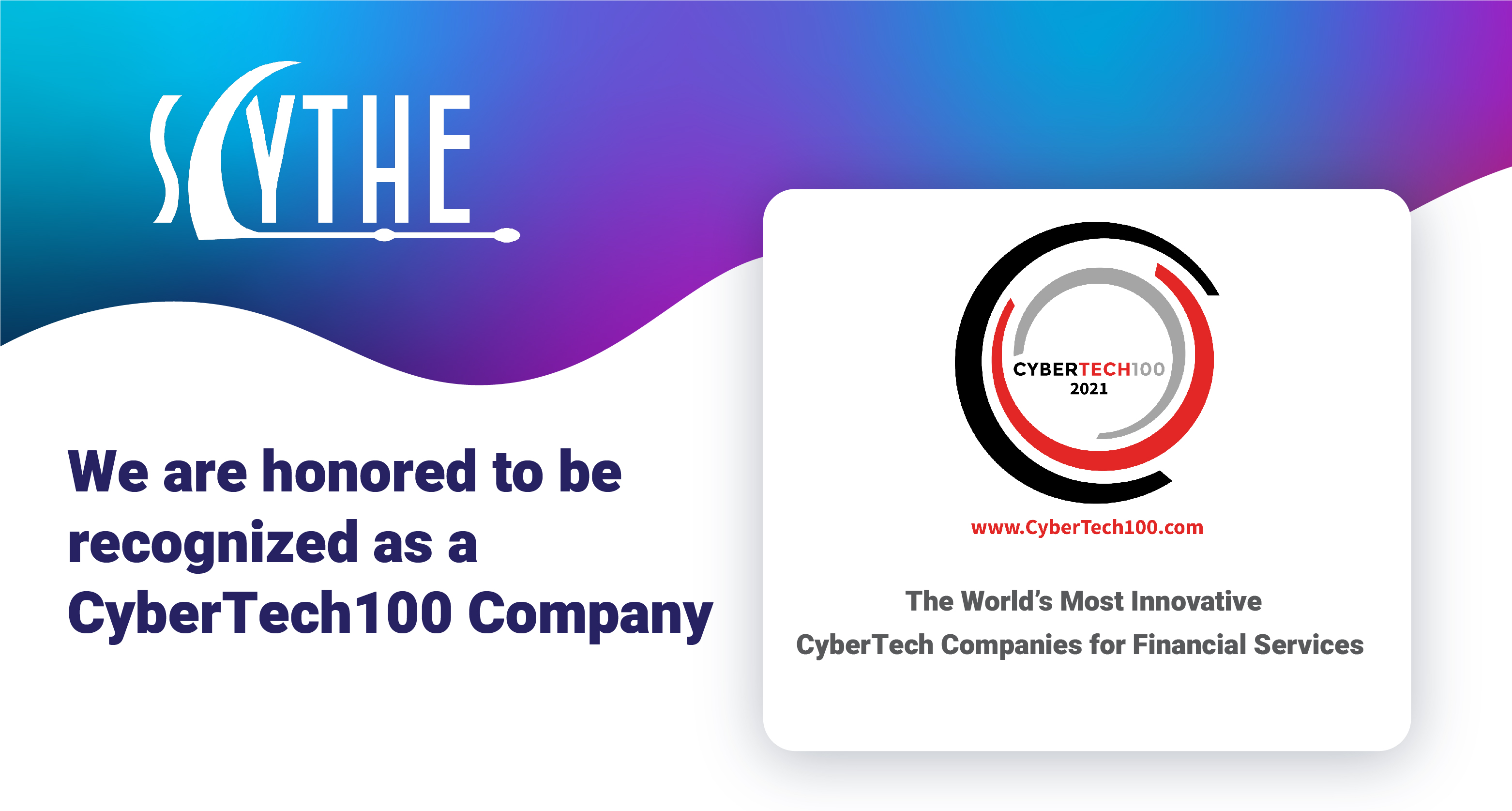 SCYTHE is proud to be recognized on the CyberTech100 for 2021 recognizing the pioneering companies helping financial institutions combat cyber threats and fraud.

FinTech Global, a specialist research firm has announced the release of the second annual CyberTech list of the world's most innovative digital solution providers. The CyberTech financial services industry has grown tremendously over the past few years as operations move to the cloud, and obtaining a secure digital infrastructure increases company spending.
In the past five years, total annual investments have seen an increase of almost nine times. This moved the sector growth from $0.7bn to over $6.2bn, and a CAGR of 72.5%. As a result, the competition to be named one of the leading CyberTech100 companies was even more difficult this year.
The CyberTech100 recognizes digital solution providers that partner with financial services and firms to protect their data and combat cyber-attacks. Each company has been recognized for exceptional and innovative ability to solve industry problems, and successfully improving the security value chain.
SCYTHE is honored and inspired to be listed among the many exceptional companies named on the CyberTech100 List for 2021. Our hats go off to each company that rose to the challenge of combating one of the most active years in cyber-attacks during 2021, and we look forward to continuing to rise to the occasion, as we face challenges in the years to come.
The full list of companies on the CyberTech100 can be found at www.CyberTech100.com
About CyberTech100
The CYBERTECH100 is an annual list of 100 of the world's most innovative CyberTech companies. These are the companies every financial institution needs to know about as they consider and develop their information security and financial crime fighting strategies.
The list has been updated for 2021 to recognize the next generation of solution providers shaping the future of the information security and CyberTech industries. The raking aims to help senior executives and cybersecurity professionals evaluate which technology solutions have market potential and are most likely to succeed and have a lasting impact on the industry.
About SCYTHE
SCYTHE provides an advanced attack emulation platform for the enterprise and cybersecurity consulting market. The SCYTHE platform enables Red, Blue, and Purple teams to build and emulate real-world adversarial campaigns in a matter of minutes. Customers are in turn enabled to validate the risk posture and exposure of their business and employees and the performance of enterprise security teams and existing security solutions. Based in Arlington, VA, the company is privately held and is funded by Gula Tech Adventures, Paladin Capital, Evolution Equity, and private industry investors.
‍