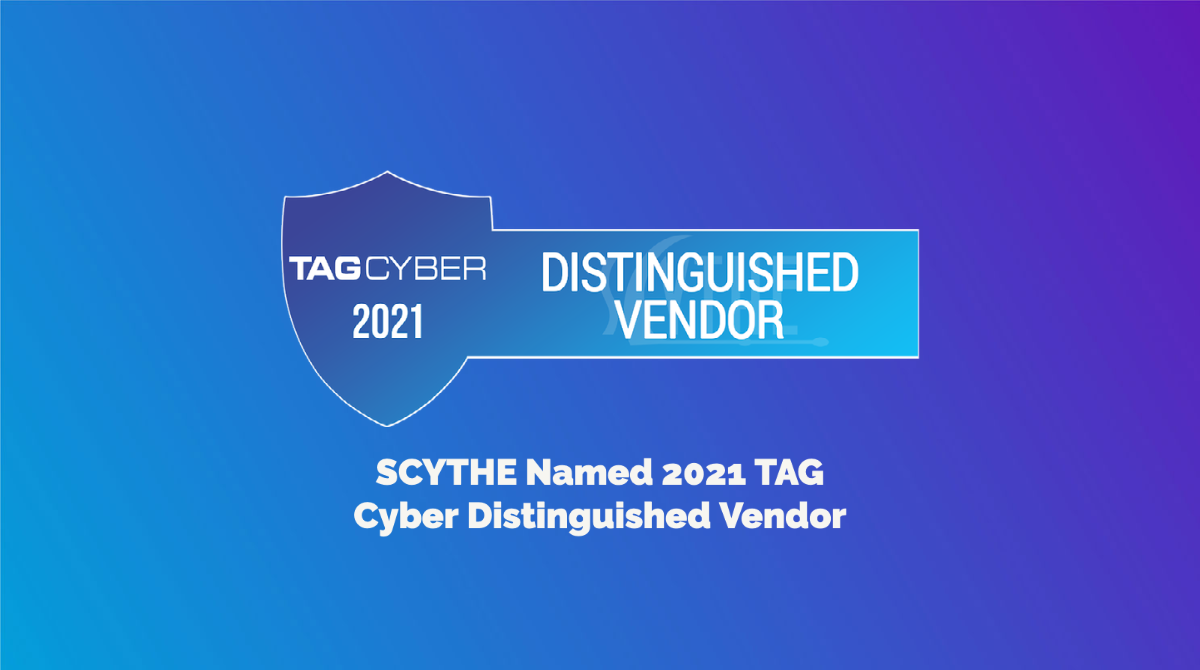 SCYTHE is proud to be an industry leader in breach and attack prevention, and would like to announce our designation as a Distinguished Vendor in this year's Second Quarter 2021 TAG Cyber Security Quarterly.
The TAG Cyber analyst team has selected SCYTHE, along with just 30 other industry-leading cyber security solution providers, to assist with this quarter's report. The report is available today for free download.
"It is an honor to be selected by the TAG Cyber team to be included in this edition," said Bryson Bort, CEO and Founder, of SCYTHE. "The TAG Cyber team works hard to provide expert analysis and content, not only for our team, but for everyone to use."
The Q2 021 Security Quarterly is part of a quarterly series that was first launched in September 2016 as an Annual, but transitioning to a Quarterly in January 2021. The report offers expert guidance, analysis, and education across the entire cyber security ecosystem.
"We are proud to feature SCYTHE in this publication," said Katie Teitler, VP of Research and Advisory at TAG Cyber. "Their support is invaluable to us, and their adversary emulation prevention platform brings great value to the industry."


About SCYTHE
SCYTHE provides an advanced attack emulation platform for the enterprise and cybersecurity consulting market. The SCYTHE platform enables Red, Blue, and Purple teams to build and emulate real-world adversarial campaigns in a matter of minutes. Customers are in turn enabled to validate the risk posture and exposure of their business and employees and the performance of enterprise security teams and existing security solutions. Based in Arlington, VA, the company is privately held and is funded by Gula Tech Adventures, Paladin Capital, Evolution Equity, and private industry investors.
About TAG Cyber
TAG Cyber is a trusted cyber security research analyst firm, providing unbiased industry insights and recommendations to security solution providers and Fortune 100 enterprises. Founded in 2016 by Dr. Edward Amoroso, former SVP/CSO of AT&T, the company bucks the trend of pay-for-play research by offering in-depth research, market analysis, consulting, and personalized content based on hundreds of engagements with clients and non-clients alike—all from a former practitioner perspective.