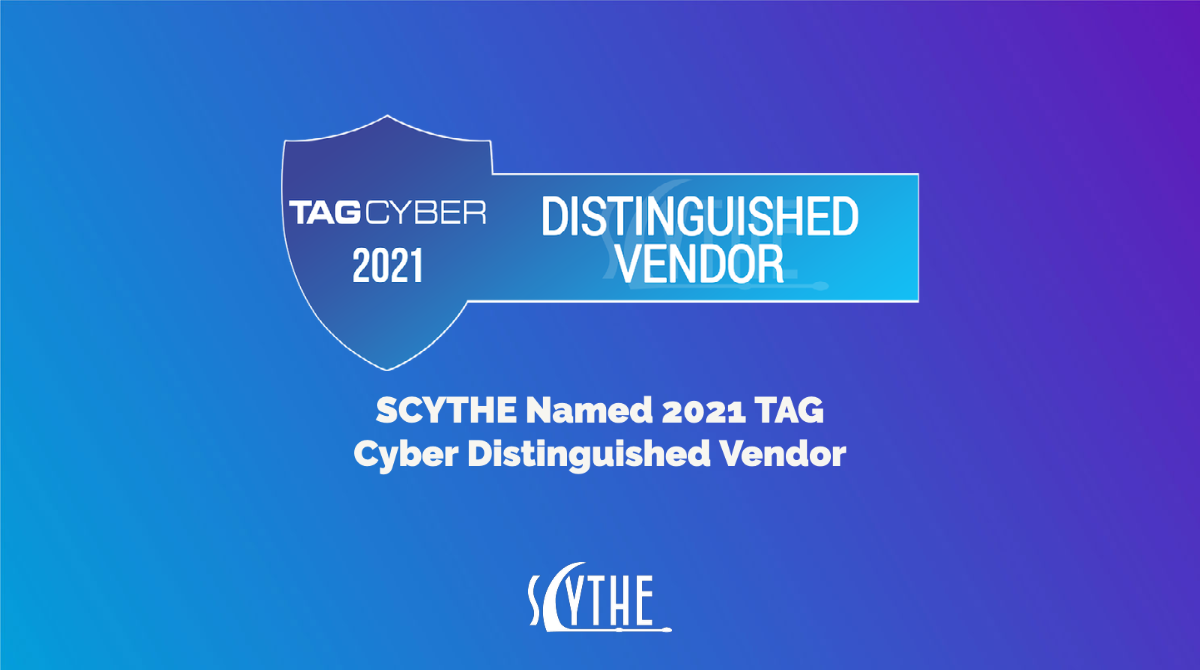 SCYTHE provides new insights on Vulnerability Assessments in TAG Cybers New Report
Arlington, VA – July 15, 2021 SCYTHE is honored to announce our designation as a TAG Cyber Distinguished Vendor in the Security quarterly for the third quarter of this year.
Cyberattacks reached unprecedented heights during 2021. The scale and severity of these attacks has greatly affected a range of critical infrastructure from power businesses to healthcare. As these threats continue to rise, it is imperative that industry leaders and experts rise up and provide the necessary insight to protect our organizations, governments, and enterprises. Preparedness is crucial as these rising attacks threaten and harm our most necessary systems.
SCYTHE has been selected by TAG Cyber on behalf of our leadership in the cybersecurity industry and our management of information as a technology solution provider to participate in the creation of its newest report. This report contains vital information regarding vulnerability and identity management, data breaches, and more. This report provides insight and leading-edge research that will help your organization to prepare for future attacks. The report is available today for free download here.
"We're excited to be contributing to the new edition of the TAG Cyber Security Quarterly," said Bryson Bort, CEO & Founder, of SCYTHE. "Recent ransomware and other attacks demonstrate the importance for organizations to prepare and to be able to assess vulnerabilities to enterprise networks. The report is a must read for the cyber security and IT communities, both across the private and public sectors."
The Q3 2021 Security Quarterly offers expert guidance, analysis, and education across the entire cyber security ecosystem.
"We are thrilled to feature SCYTHE in this publication," said Katie Teitler, VP of Research and Advisory at TAG Cyber. "Given the evolving nature of today's attacks, the ability to assess vulnerabilities and emulate real-world threats is of great interest and importance to IT and security professionals right now."
About TAG Cyber
TAG Cyber is a trusted cyber security research analyst firm, providing unbiased industry insights and recommendations to security solution providers and Fortune 100 enterprises. Founded in 2016 by Dr. Edward Amoroso, former SVP/CSO of AT&T, the company bucks the trend of pay-for-play research by offering in-depth research, market analysis, consulting, and personalized content based on hundreds of engagements with clients and non-clients alike—all from a former practitioner perspective. For more information, visit https://www.tag-cyber.com/.
About SCYTHE
SCYTHE provides an advanced attack emulation platform for the enterprise and cybersecurity consulting market. The SCYTHE platform enables Red, Blue, and Purple teams to build and emulate real-world adversarial campaigns in a matter of minutes. This enables customers to validate the risk posture, exposure, and employees in their business, as well as the performance of enterprise security teams and existing security solutions. Based in Arlington, VA, the company is privately held and is funded by Gula Tech Adventures, Paladin Capital, Evolution Equity, and private industry investors.